Support
Proper Use and Maintenance - Refrigerated Containers
To ensure that the equipment will provide many years of continued reliable service, routine duties must be performed everyday:
Ensure required storage temperature has been stabilised
Produce should not be stored underneath the machinery
The units (with the exception of specific purpose-built units) are not designed to store products that have previously been stored at a higher temperature than the set point temperature. All products to be stored must be loaded at the same temperature at which the unit is set
Check the unit every six hours or more frequently if required
Allow 10ft of space in front of exterior machinery to allow correct air flow and access for the engineer
Spacewise does not accept responsibility for any loss or consequential loss whatsoever or howsoever, caused by failure of equipment.
All repairs and subsequent parts used, due to failure of customer care and cleaning of the unit, will be charged to the hirer, including labour and travel costs.
It is the responsibility of the customer to insure against all loss of contents or third party claims relating to the use of these containers.
The customer is obliged to clean the unit at least every 14 days (or more often if required by an appropriate governing body).
Cleaning should include:
High pressure, hot water steam cleaning with non contaminant or non corrosive detergent
Removal of all foreign debris, bags, dunnage, rubbish, foodstuffs or ice
Cleaning the floor, drains, condenser coils and air ducts, keeping them free from ice
Should there be an erroneous call out, a charge will be incurred. The importance of carrying out these procedures correctly should not be underestimated.
Technical Help and FAQ - Refrigerated Containers
Each Spacewise container is delivered to the customer after undergoing a thorough inspection by a qualified technician.
As a sophisticated and reliable piece of equipment, it should be looked after with care. This page is a user friendly guide for on-site operation and running of the equipment.
Using your Spacewise Temperature Controlled container could not be easier. The simple control box with digital temperature display, provides control at the touch of a button.
All hired containers are monitored and have a full domestic rental service history. With a stainless steel interior for added strength, non-slip chequer plate aluminium flooring, each unit incorporates flush thresholds and ramp for easier loading and unloading. Low temperature interior lighting to IP65 specification is also a standard feature on all food grade containers, as is a fully lockable butcher's door with internal emergency door release mechanism.
0800 028 4133

EXTREME CARE SHOULD BE TAKEN TO ENSURE THE MAIN SUPPLY TO THE UNIT IS OFF BEFORE CARRYING OUT THE PROCEDURES BELOW:
| Problem | Cause | Remedy |
| --- | --- | --- |
| Unit not running. No indication lights on controller. | No main power supply. Lamp failure. | Check that the main supply from premises to unit is switched on. If supply is from a circuit breaker, check that it has not tripped. Reset if required. If the supply is fuse protected, check that the fuse has not blown. Replace it if required. Replace lamp if it is required. |
| Unit still not running. Check mains supply ok. | Loss of supply from plug to container. | If container cable has a plug fitted and it is plugged into a socket, this socket may have a circuit breaker fitted. Check to ensure this has not tripped. If tripped, reset. Please ensure cable has not been severed. |
| Unit still not running. No indication lights on controller. | ON/OFF Switch for unit in OFF position. | Make sure the ON/OFF switch is in the ON position. If the indicator lights located in the controller are illuminated, wait up to six minutes for the unit to start up. |
| If there is still no supply to unit. | Circuit fuse (switches) in controller may have blown. | CALL AN ENGINEER. 24 Hour Technical Helpline 0800 028 4133. |
| Temperature indication is above set point by more than 2oC. | Unit is in defrost mode, or just after defrost. | If the unit is in defrost mode, the fan and compressor will be idle. Please note the temperature shown in defrost mode is the temperature across the evaporator coil, not the temperature of the product. Therefore a unit in defrost will normally show high temperature readings. Wait a further 60 minutes to allow for normal operation. |
| Temperature monitor is above set point, but unit is not in defrost mode. | Evaporator coil is iced up. | Check inside the container to see if the evaporator coil is iced up. If so, the unit will require extra defrosting. Switch to manual defrost by pressing and holding the def key on the controller display. Note: long door openings will cause excessive ice build up. |
| Unit unable to achieve set temperature. | Condenser coil blocked. | Check to ensure the condenser coil (air intake) at the machinery end of the container is not blocked by dirt, plastic bags, paper or other debris. Any blockage should be removed. If the coil is blocked by dirt, it should be thoroughly washed and cleaned, taking care not to damage the aluminium fins. Squashed fins will reduce the efficiency of the unit and can lead to high pressure trips. |
| Unit unable to keep set point temperature after all previous checks have been carried out. | Mechanical or electrical problem, which requires the attention of an engineer. | Do not open the doors as the temperature will rise further. Contact the technical helpline. Note: prior to calling an engineer, please check the read out on the controller display, if any, and give this information to the service center - 0800 028 4133 |
THINGS YOU MUST
NOT

DO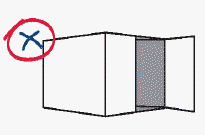 Do not leave the doors open for any length of time.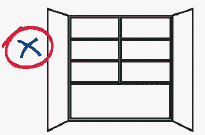 Do not stack produce floor to ceiling. Gaps must be kept to allow air flow around produce.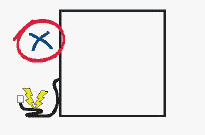 Do not leave cables in dangerous positions where damage may occur.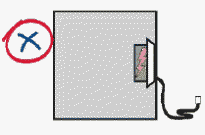 Do not open the controller unit unless the main supply is switched off.
Do not stack pallets/cages against the front or on the roof of the container.
Do not clean the evaporator coil or condenser coil with any metal or hard objects.